WE will help the Bulin Church in Vancleave raise money for local charities. 4 bands will play. Games, food, rides, vendors, beer 
Jamboree has been posponed until 2018 due to health problems.
Our 6th annual  Turkey Jamboree was still a sucsess even though it rained all weekend . We want to thank the bands; Elusive Behavior, 2nd Class Citizens, Double J Band, No Regrets, The Grey Area, Krooked Halo, Project Nine, StrongFold, Coates, Brothers, Billy Marter, Jake Bilbo, Something Else and Blue Tuna for the great perfomances. Thanks to Don and Donald for the vendor services,  All the volunteers, Sherry Moran, Angie, Jeremy and Tracy. Many more to thank but not enough room. See you next year.
We will be holding our annual music fest---Turkey Jamboree  Sept 16th thru the 18th 2016. More info to come.
                                                       2015 TURKEY JAMBOREE PICTURES COMING SOON.... JUST NOW GETTING WITH MIKE COATES ON THE EDITTING SO PLEASE BE PATIENT AND STAY TUNED FOR MORE TO COME
We will be Holding our 6th Benefit For The Lost animals of South Ms on April 9Th 2016 at 12:00 Noon. We will announce the details at a later date.
Caring And Sharing For Charities Would like to welcome our new Chief Administrator  "Angie Tamborella"  to our team. We know she will do a great job Helping us help others.  
Beat the clock price reductions for the 5th Annual Turkey Jamboree. Pay one price for the entire weekend -- Only  $8.00 on line.    Bring a tent and chairs. 13 bands play starting at 5:00Pm Sept 18th and end at 8:00Pm Sunday Sept 20th 2015. There will be food vendors, games, raffles and a swimming pool. Kids under 12 free. No glass bottles--please. All proceeds go to Feed My Sheep.  Go to the donation page for tickets. $5.00 per day or $12.00 for the weekend at the gate..Bring chairs. No fire arms. Please bring a food donation as well. For more info call 228-669-0988 or 228-313-0224. We will announce the bands soon.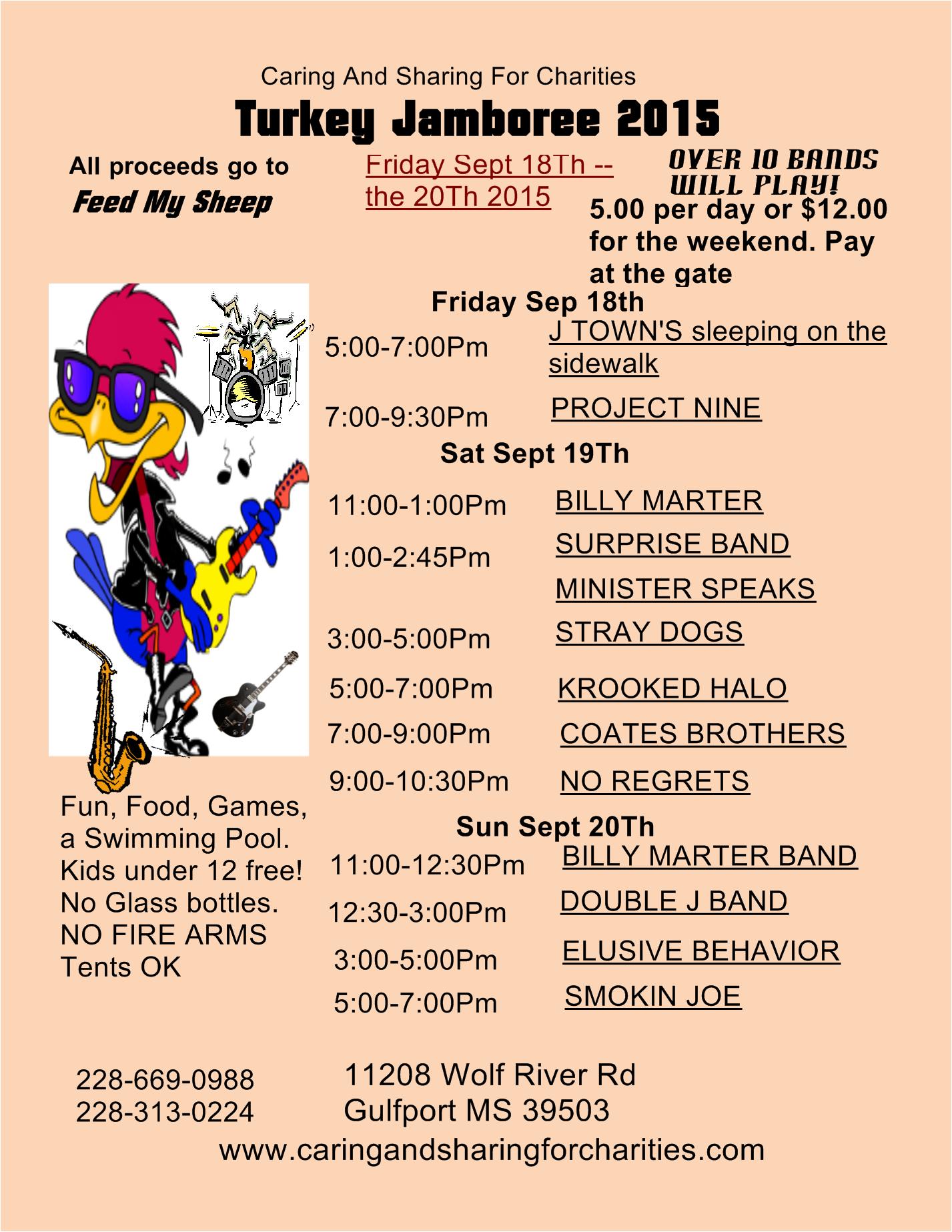 We will be holding our 5Th Annual Turkey Jamboree Sept 18Th thru Sept 20Th 2015. Over 10 bands will play to benifit Feed My Sheep . If your band wants to play email us at caringandsharingforcharitys@gmail.com or send us your RPK through reverb nation. More info as we get it.